Congratulations Mrs. Odobescu was awarded Commander's Cross Order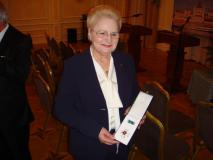 The state award is always the highest evaluation of the merits of a person, his labor, creativity and way of life, of all that has been created and achieved in many years, during which the particles were put heart and soul. All the more valuable as the knowledge, experience, professionalism, business skills are so highly appreciated not only in the country but also abroad.
In October, the General Director of the Moldovan-Hungarian company RihPanGalPharma Asia Odobescu was awarded the highest state award of Hungary for foreign nationals - Commander's Cross Order.
Article in newspaper "Экономическое Обозрение" № 41 (969) 09 ноября 2012